10 Jan 2019
Alibaba faces an uphill battle in EMEA
For digital infrastructure providers, Europe and the Middle East remain great lands of opportunity. Unsurprisingly, the usual suspects - AWS, Microsoft and Google - are building data centers across the region like there's no tomorrow.
But it's not just them: Chinese cloud vendors, while traditionally insular, are now investing vast sums in deploying their infrastructure in EMEA, hoping to catch up with their Western counterparts.
But what - if anything - can they bring to the table that the region's dominant cloud providers cannot?
DCD spoke to Sachin Sony, senior manager of solution marketing for enterprise and cloud services at Equinix EMEA, to find out. The colocation provider leases infrastructure to both enterprises and cloud providers, with a strong focus on interconnection. Sony told us of the company's experience of working with Alibaba Cloud, and weighed out the company's chances of gaining terrain in new markets, against the potential setbacks.
Stacked odds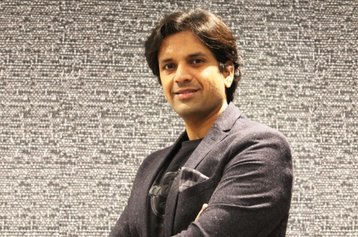 Sachin Sony, senior manager of solution marketing for enterprise and cloud services at Equinix EMEA – LinkedIn
"Europe is at a crossroads," Sony told DCD. As well as seeing traction in western European markets, he said, cloud services are in higher demand in the central and eastern regions too, offering new opportunities for providers – not limited to a single cloud giant, as businesses increasingly seek out risk diversification.
Sony explained: "Typically, you're looking at every enterprise connecting to seven or eight different cloud vendors, just so that they can have their workloads with different service providers – because you'll often find one vendor is better from a pricing perspective, another is good from a processing capability perspective. The multi-cloud approach brings the best together."
Pricing isn't an issue for Alibaba, he said, as the Chinese provider offers a more diverse suite of services at a lower cost than its rivals.
"If you look at the entire suite of services - not just cloud computing but also storage, data recovery and a couple of other capabilities- as a whole, Alibaba would come out to be about fifteen percent, twenty percent cheaper [than AWS]," he said.
"But I don't think price is the criteria that enterprises are using today - it's about security, regulation, it's about APIs, feature sets and community support."
And indeed, there are likely some difficulties ahead for Alibaba, whose dominance in China is not reflected elsewhere. North American companies preside over much of the EMEA and NAM markets, because customers gravitate to what they know best, but also because - having been around for longer - AWS, Microsoft and Google already have a wider data center footprint.
"All the Asia Pacific companies looking to expand into the Middle East, Europe and North America continue to use the same cloud vendor, which is typically Alibaba - especially if they're Chinese. But on the other hand, if you look at US-based companies, top Fortune500 companies or G2000 companies, they are moving in from North America into other markets, and they intend to go with the brands that they are comfortable using."
Local processing capabilities are inextricably tied to meeting customers' regulatory requirements, and the American hyperscalers have the upper hand here - they have enough infrastructure to ensure that their customers' data can be processed locally.
And while in his opinion, Alibaba's feature sets are "equally as robust" as those of AWS, Amazon's cloud platform offers a wider API set than its Chinese rival does. "This is key for a large number of enterprises," Sony said.
The devil you know
Trust is another crucial differentiator. In the current climate of distrust for Chinese companies - so far hitting Huawei, which works closely with Alibaba, the hardest - Alibaba's expansion into Europe and North America could be cut short.
"I would think enterprises would have more confidence in US-based vendors as compared to Chinese vendors - especially when you're talking about moving all your mission critical data in the cloud, it could pose a threat."
If things were to escalate further, Sony ventured, Alibaba may even reconsider its use of Huawei hardware in some markets.
"If it becomes a barrier to entry to do business, I think they would have to go down the route of diversification," he said.
A solution for Alibaba, he said, could be to partner with local vendors. Like Huawei, which is reportedly in talks with BT to offer cloud services in Europe, Sachin believes the Chinese cloud provider is considering such an approach.
"It enables them to reach out to European customers, who would have more confidence in going to BT as compared to going to Alibaba," he said.
In any case, Equinix doesn't intend on taking sides in the battle of clouds. Its services are vendor-neutral, and Sony believes the company is doing its bit to support all cloud providers by tending to enterprise customers' security concerns, namely by providing its SmartKey encryption solution, and private connectivity services.
"From our perspective, we support hyperscalers from the North American side and from the AP side – so customers coming to us can consume based on the capabilities they're looking for."
Source: https://www.datacenterdynamics.com/analysis/alibaba-faces-uphill-battle-emea/?mkt_tok=eyJpIjoiTlRJM1pqYzBPRFptTm1ObCIsInQiOiJPbUNLRHVRbFh5SmNYQ0p1bmtjNElDSnFDSCtJbTdlTENkTFZ3TFRvY04wOWlhYkcyVGVzMmtSTGhFMm5kMDlxalRmTlwvSzNcL0YwbXFGZUNPbmlURHViT1ZCVDVLajZ2UXdaVFU3bGZhUGZcL2x0K3h4dXc0MHAyT1ZBUHNHa3dtSiJ9
Join us at Data Centre Africa which opens in...
Sponsors
BlueKnight

Digitalside

Global Valley

Halftonedot

Home Confort

Skylight

Solar Logistix

SolidSociety

Streamcom

The Vortex

Telone

Schneider Electric

B&W GENERATOR SALES (FG WILSON)

Master Power Technologies

FGW GENERATORS

TENDO Electronics
We were looking for a place that is a premium vehicle for our products, a wide demographic to grow our business and 2 day's worth of sales leads to grow over the next 12- 18 month and that is exactly why we are at Data Centre Africa 2019. We have had great conversations and looking forward to creating business with the leads generated from the 2 days.

Data Centre Africa Conference is the go to event for exhibitors in the data centre sector. We want to see the event grow and develop into a leader of all data centre industry events and that's why we exhibit here. The event will definitely not disappoint, we are looking forward to see many clients & customers multiple new faces – this will lead to lots of visitors coming to ask questions, new networking opportunities and leads.